Below: The Farley family on their Ready Made Farm in Coorow
The first farm to be sold was to Capt. Phillip Farley in 1913, who migrated with his family from India to take up a holding in Coorow. By 1916 another 22 families from Australia, England, Scotland, Wales and South Africa had taken up farms across Carnamah, Winchester and Coorow.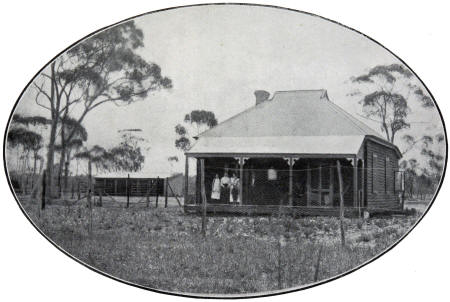 "I cannot make a living on the land at its present price."
- Robert Niven of Lot M940, Carnamah in 1917
The Company glorified and misled potential settlers on local conditions and the profitability of the farms. They had also charged excessively for the improvements they'd made to the land. The settlers soon realised they'd never be able to survive and pay their instalments.
"I am not impressed by the outlook. We are fighting the Company all we can. We must have a revaluation if we are to remain in the district. I like the country and the life but the land is valued altogether too highly."
- John S. Rooke of Lots M956 and M957, Carnamah in 1917