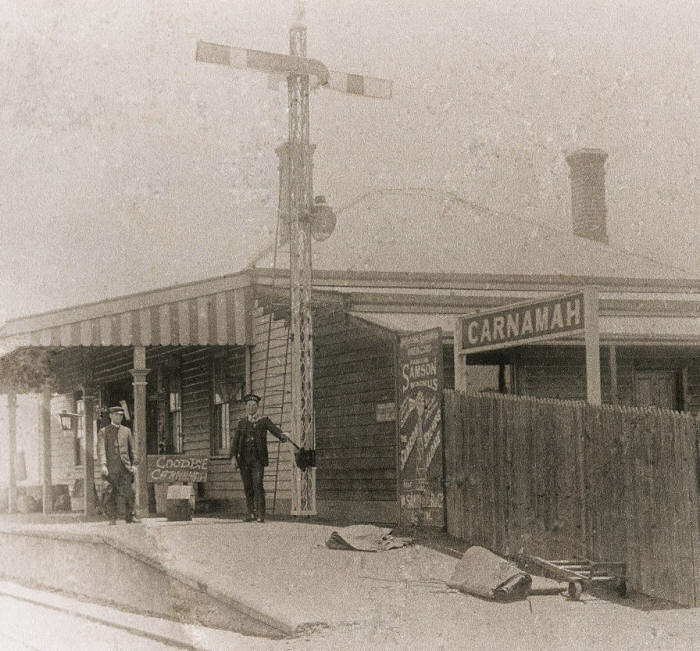 Carnamah Railway Station
Trains stopped at the Carnamah Railway Station, which was established in 1894 and named after the pastoral station of the Macpherson family. Before the railway was constructed the Macpherson's transported everything by horse-drawn wagons and herded their livestock all the way to Perth. The easier and quicker transportation offered by the railway made Carnamah a more attractive place for people to settle and establish farms. It soon led to further settlement and became the lifeblood of the district. It transported everything including people, supplies, machinery and the fruits of local farming - wheat and sheep.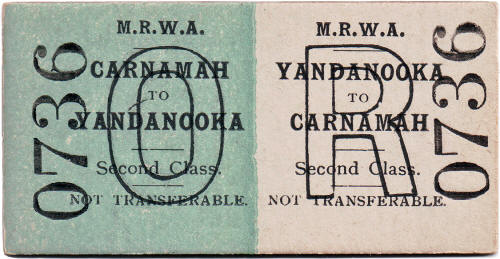 Return railway ticket from Carnamah to Yandanooka
The Midland Railway Company sold one way and return tickets for both first and second class passengers. They also sold tickets that connected with travelling on Government railways from Walkaway to Geraldton, and from Midland Junction to Perth and suburbs.
Midland Railway passenger carriage
For many years the quickest way to travel to and from Carnamah and other places was by train. In 1904 it took just over nine hours to travel between Carnamah and Midland Junction in Perth.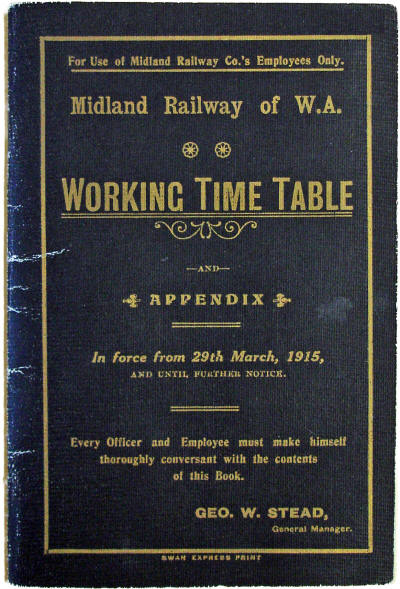 Working Timetable from 1915


Working timetables were small booklets carried by railway staff. In addition to providing a schedule of trains, times and prices they also listed rules and what staff had to do at certain stops. There were, however, some unofficial tasks that had to be done.
In 1917 trains couldn't depart in Three Springs until the stationmaster went out and got storekeeper Jim Whitelaw's cow off the tracks! The cow was sometimes joined by local agent Tom Berrigan's pony, as both animals liked scratching themselves on the trains.

Unfortunately the booklets didn't give much guidance on what to do in the event of an accident.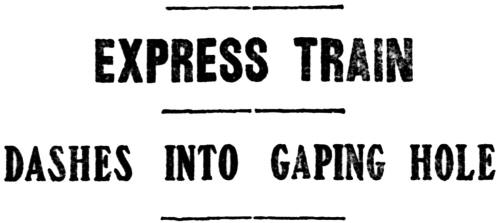 Heavy rains in 1917 caused the ground underneath a section of railway tracks near Gunyidi to wash away. When a train reached the compromised section part of the railway snapped behind the engine and pierced through a luggage carriage. Passenger carriages flew into the air and collided into each other.
"I know I can't live, go and help the women"
- Richard C. Burges
It was 1:45 in the morning, raining, people were trapped and injured, surrounded by water, in total darkness and on the most isolated stretch of the railway. Uninjured passengers fell into the water to try and help those who were screaming and moaning for help. The body of two year old Greta Benzie of Geraldton was found floating in the floodwaters. Her mother Martha Benzie was seriously injured and died two hours later.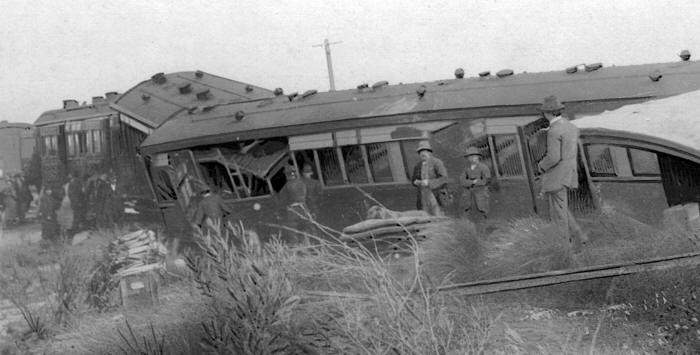 Midland Railway Disaster in 1917
Among the other twelve who were seriously injured was Richard C. Burges of Howatharra. He knew he wasn't going to survive so gallantly refused assistance so others could be treated more quickly. He died within an hour. Passengers gathered wooden bits of wreckage from the carriages and started fires so they could see to locate trapped passengers and assist the injured. After 13 hours an emergency relief train arrived from Midland Junction. The injured and stranded were then taken to Moora for medical attention and food.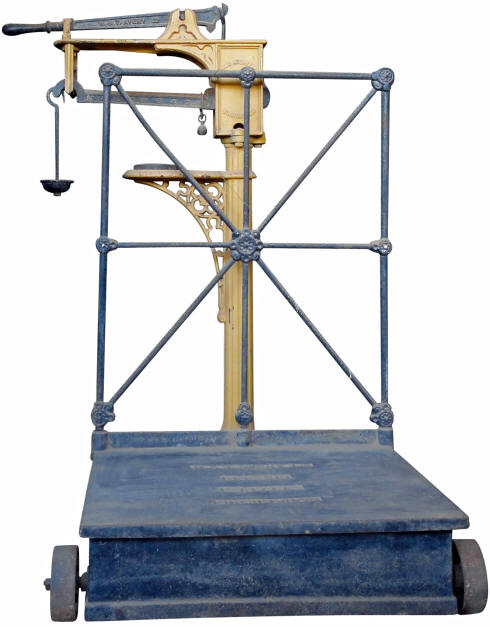 Avery Railway Scales
Scales were used to weigh goods to ensure trains weren't overloaded and to calculate transport charges. Prior to reliable roads all goods and supplies for shops, businesses, homes and farms were transported along the railway. This included livestock, crop fertilisers such as superphosphate and even the mail to and from each
post office
.
Items that arrived on the train were placed in the goods shed at the railway station. Before the building of the Carnamah Hall in 1921 most social functions and dances were held at the goods shed.