Most farms and some townspeople in Coorow, Carnamah and Three Springs once kept a cow to provide their household with milk and its by-products of cream and butter. Making butter was a manual and time consuming task. It involved multiple pieces of equipment used to separate the cream from milk and then churn it into butter. It was a domestic chore often carried out by the lady of the house, or by children. This was commonplace in many districts around Australia and elsewhere in the world.
Below: Miss Daisy Bowman milking a cow on Home Farm in Carnamah and another two cows feeding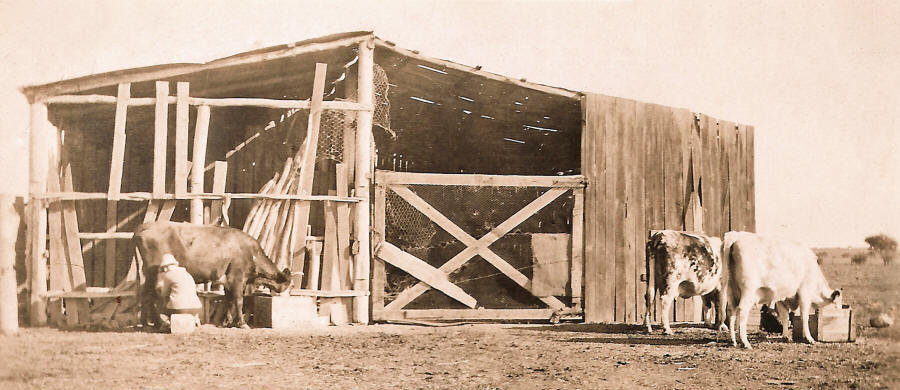 Right: Milk Strainer

Fresh milk was poured through a milk strainer to remove any hair or dust that may have fallen in during milking. Milk strainers, like the one shown to the right, were often made to screw onto large metal cans.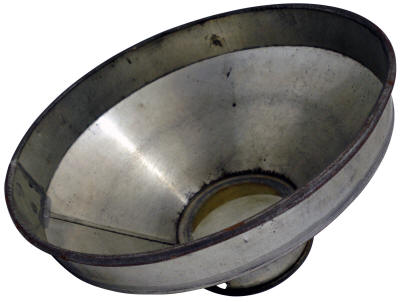 Left: Milk Separator

Milk separators were used to separate the milk into cream and skimmed milk. Fresh milk was poured into the large bowl at the top and the handle manually turned. This once new technology was called centrifugal separation.

The milk would go down from the bowl and into a spinning mechanism that would result in the heavier milk particles being pulled outwards while the lighter cream particles would gather in the middle. The cream and skimmed milk would then come out of separate spouts.

The ratio of skimmed milk to cream would depend on the speed the handle was turned, the cow the milk had come from, the weather and what the cow had been eating!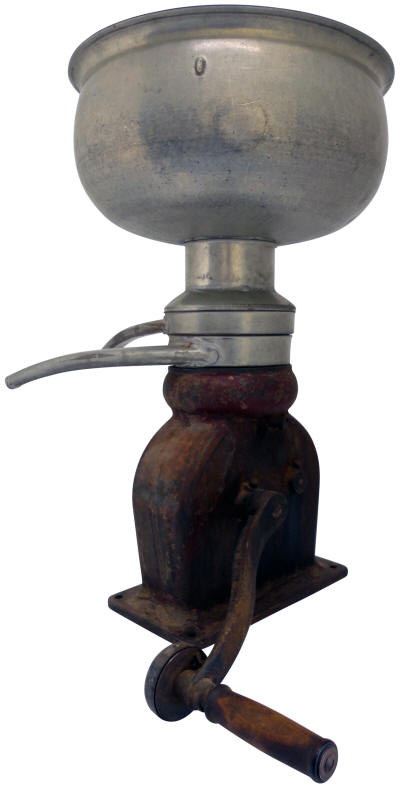 Right: Butter Churn

Following separation butter churns were used to churn the cream into butter. Cream was added to the churns and turning the handle would move a paddle inside. Water and salt was added at certain intervals.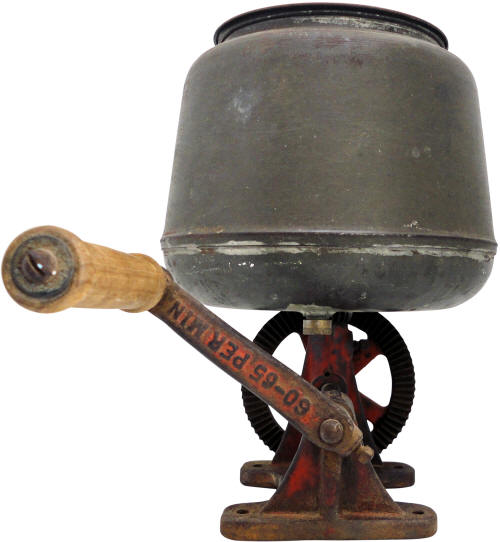 "We used to turn the bloody handle for hours"
--
Vida Whitehurst née Wells
speaking about herself and her sister churning butter as children in Carnamah in the 1930s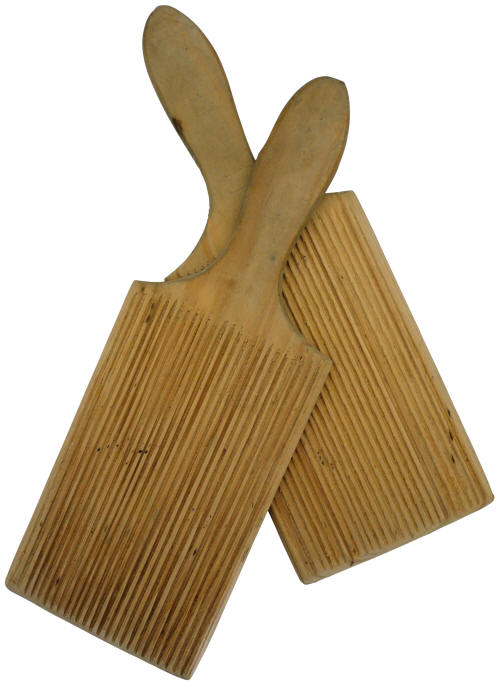 Right: Butter Pats

Butter pats were used to remove the butter from the churn and press it into a solid rectangular shape. In some instances, especially if it was for sale, the pats would instead be used to push the butter into moulds.

Right: Butter Mould

Butter was put into the box of the mould and the lid then pushed down to compact it into a solid rectangular shape. The hole in the bottom was used to help get the butter out.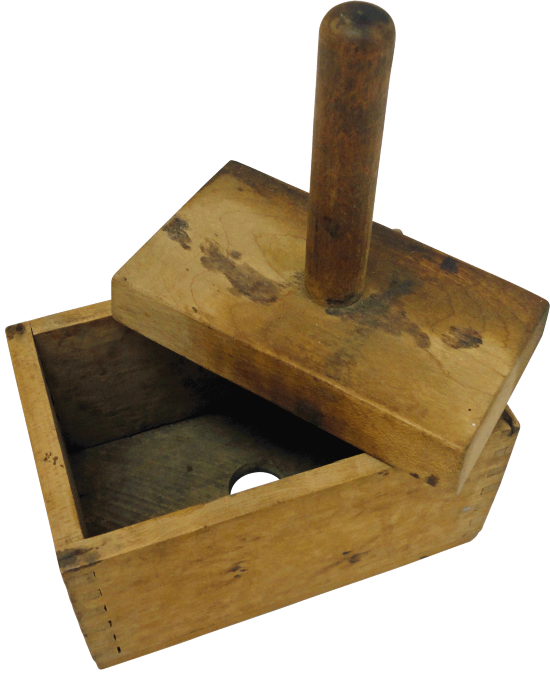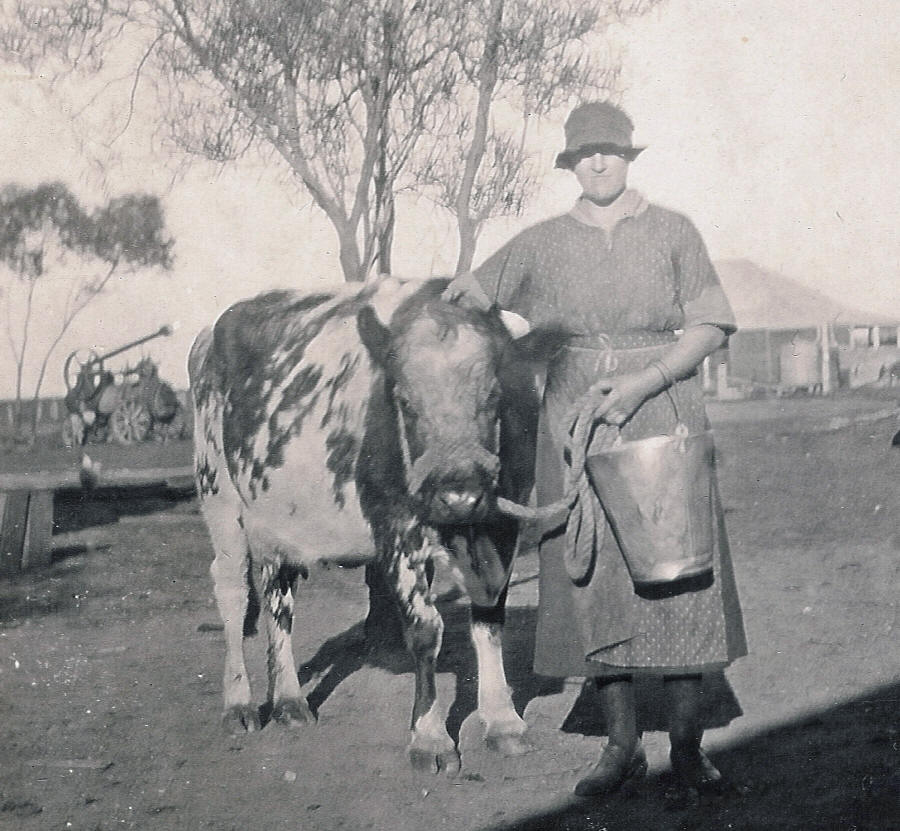 Left: Butter Wrappers
Sometimes more butter than what the home required was made with the excess being sold to increase the household income. The printing office of the local newspaper in Carnamah manufactured specialised butter wrappers for this purpose.
These wrappers were printed in Carnamah at The North Midland Times newspaper office for
Mrs Gert Allen
of
Mi Blu Aven
Farm in Winchester.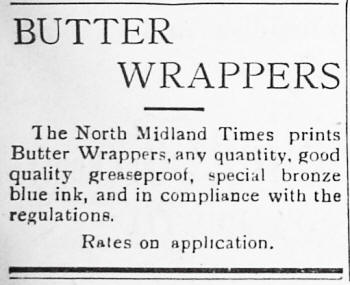 Above:

NAUGHTY

cows eating a local wheat crop! These are the same three cows from the first photo.
In the early years numerous townspeople kept cows in Carnamah. Some had them on vacant blocks in town and others kept them in farmers' paddocks. Among the exceptions was a cow named Bonny who wandered freely around town. She belonged to the local baker
Leslie Trotter
, and when she died her death made it into the columns of the regional newspaper
The Irwin Index
- see below!

"Bonny," Carnamah's well known cow, the property of Mr A. L. Trotter, died of inflammation on Monday evening last. Bonny's placid gait and amicable aspect made her a familiar figure to the people of Carnamah as she wandered peacefully around the town. So well-known did Bonny become that she almost became an institution, and when she died the people of Carnamah discussed her going with almost as much regret as a human.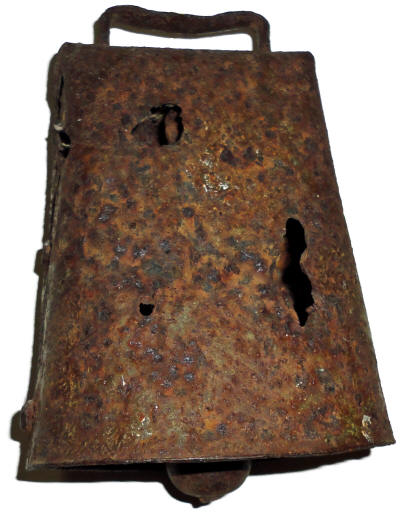 Upper Right: 1932 Advertisement for Mrs Sharp's Dairy
The husband of
Mrs Agnes Sharp
died in 1925 leaving her with two infant children. She took over the running of their
Yarrow
Farm in Carnamah in addition to establishing and operating a dairy. For many years she delivered milk to customers in the Carnamah townsite each day. Mrs Sharp ran her dairy until 1946.
Right: 1936 Advertisement for Kroschel's Dairy
Charlie Kroschel
ran a tearooms at
10 Macpherson Street
in Carnamah - a building which is now the
Carnamah Museum
. After leasing out his tearooms in mid 1935 he ran a small dairy for six months. His dairy was located just west of
town
.
Below: Baxter J. Bothe milking in Coorow in the 1950s

Left: Cow Bell
The noise form the bell, hung around the neck, made it easier to find the cow. This assisted when it was time for milking and also if the cow had been let into unfenced bush to graze freely.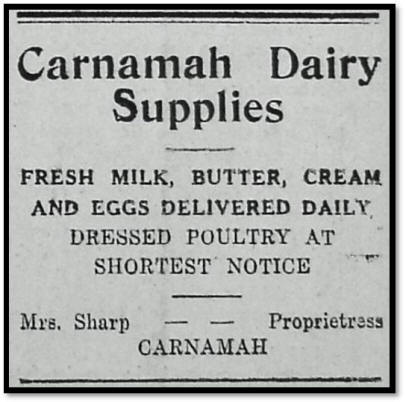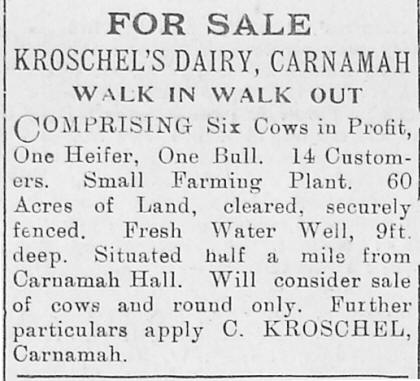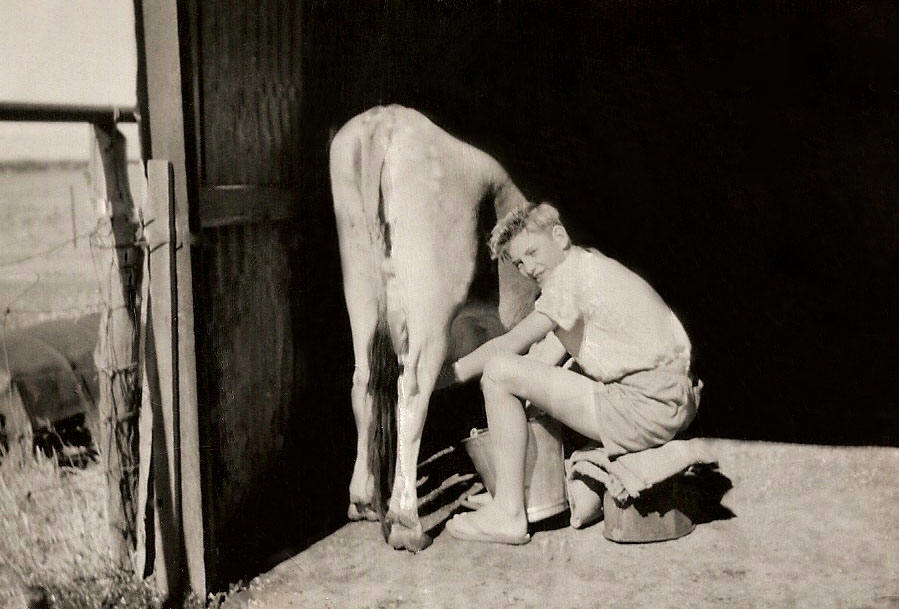 Right: Cream Can
This cream can was used by
Mrs Kate McIntosh
of Carnamah to send cream to Perth, which supplemented her income. The latches on each side rise over the thin part at the top to keep the lid firmly in place.
"May milks two cows, so we have plenty of butter, and of course we keep fowls for home use. We have breakfast at half past six in the morning. May gets up first and gets started, I get up to make the toast, after that between milking, separating, and washing up the time passes very quickly. We have dinner at half-past six, luncheon is carried out, by the time all the washing up is done we are ready for bed, but there is no doubt it is a fine healthy life."
Above:
Ready Made Farm
settler Mrs Mary Lang of
Grianaig
Farm, Carnamah writing about herself and her daughter May, in a letter to her brother in Canada in 1931.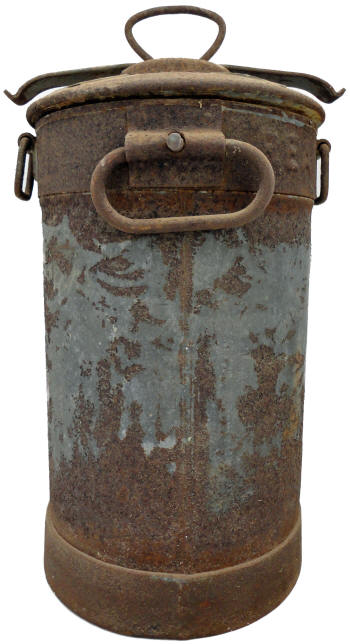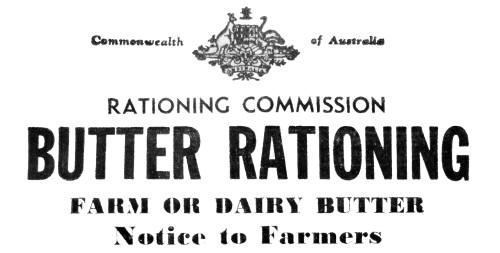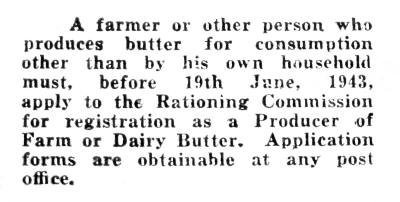 Left: Notice from The North Midland Times

During the Second World War there were shortages in many commodities, and butter was rationed across Australia from mid 1943. The rationing applied to everyone who bought and sold butter - including farmers who sold, gave away or traded small amounts.

This impacted on people more than it would today, as butter wasn't just a spread for sandwiches and toast. Most households prepared the majority of their food from scratch and butter was used extensively in cooking, baking and for frying.
Right: Supermarket Butter from 2013

Many people once made their own butter from scratch using fresh milk. This required a lot of time to look after a cow and the many tasks of milking, straining, separating, churning and patting.

Today, butter is made in large quantities in electric-powered factories and can be purchased easily and cheaply at supermarkets. There are now also alternatives to butter, such as margarine, which didn't exist in the past.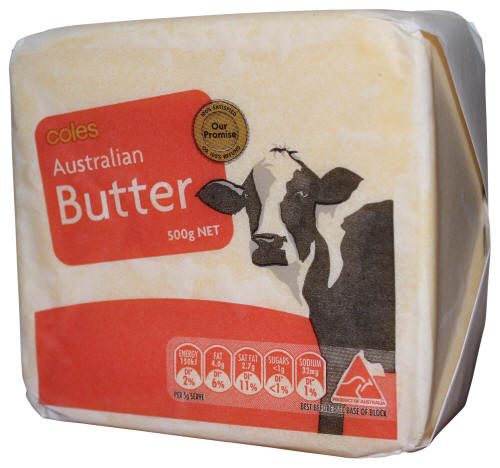 V i r t u a l M u s e u m :

Macpherson
●
Railway
●
Farms
●
War
●
Town
●
Schools
●
Roads
●
Business
●
Electricity
●
Tearooms
●
Post
●
Books
●
Toys
Now featuring
10863 Bushranger presented by Act-Belong-Commit