10 Macpherson Street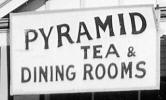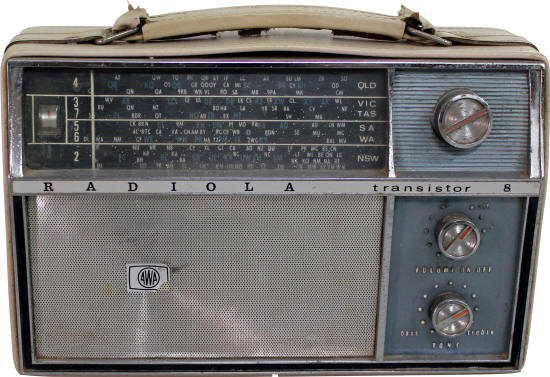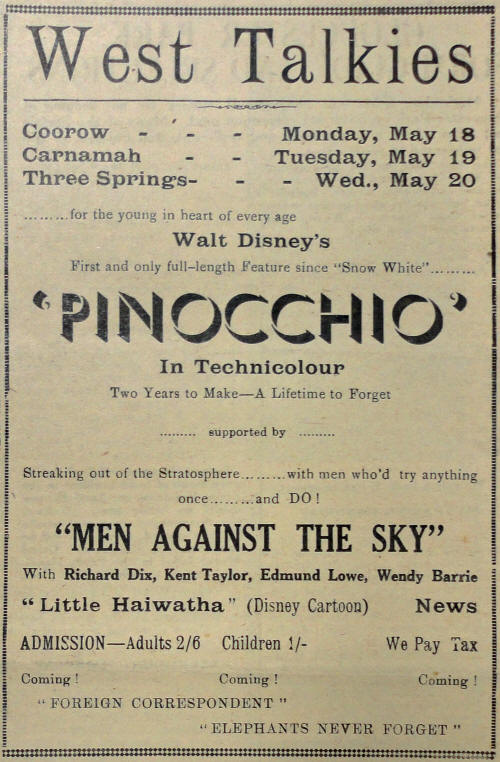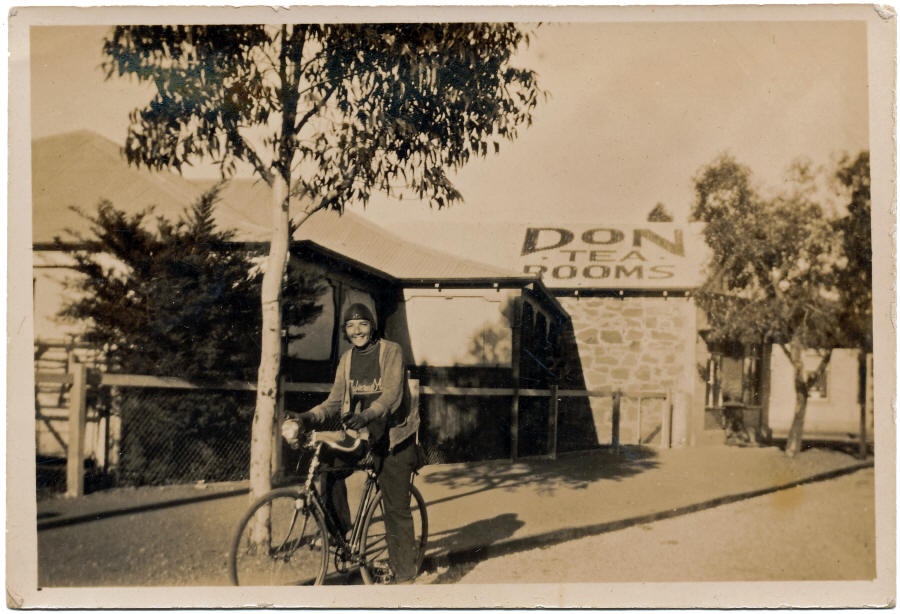 The
Midland Railway Company
surveyed a
townsite
at Carnamah and began selling quarter-acre blocks in 1914. Local pioneer Donald Macpherson purchased 10 and 12 Macpherson Street for £30 cash. Several years later
Donald
sold the two vacant blocks to Charlie Kroschel, who was a retired policeman. Charlie had previously been stationed in Three Springs with Carnamah and Coorow under his jurisdiction. A lot of his time as policeman was spent chasing the district's bushranger, Frank Thomas.
"Mrs Parker heard what she thought were whip cracks as a horse galloped by at the back of their house at number 5 Macpherson Street. Lou Parker said that the sound was not of a whip but Charlie Kroschel trying to shoot Thomas!"
-- Alaric Parker
Charlie Kroschel
had a large stone building constructed at 10 Macpherson Street, Carnamah in 1926. It included a café (then known as a tearooms) and an adjoining house for himself and his wife
Maggie
. They named their café The Don Tea Rooms and in addition to serving lunch, afternoon teas, snacks, and supper they also sold fish and chips, confectionery and cool drinks.

Milk
for the tearooms was provided from a cow which was kept on-site. Charlie grew a small crop on the block next door until 1932 when it was used for the
Carnamah Post Office
.
"I can remember as a kid, Charlie used to hand broadcast wheat and oats. He had a scythe to cut it. Then he bundled it up ready for his cow."
-- Don Reynolds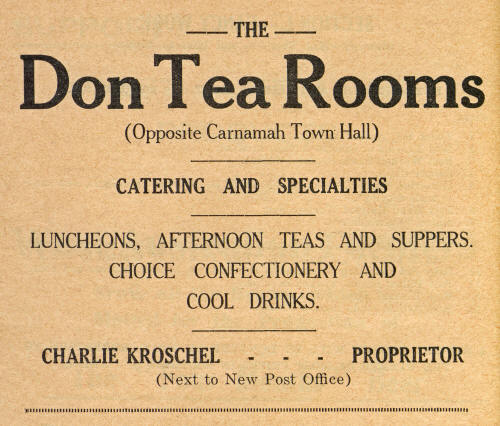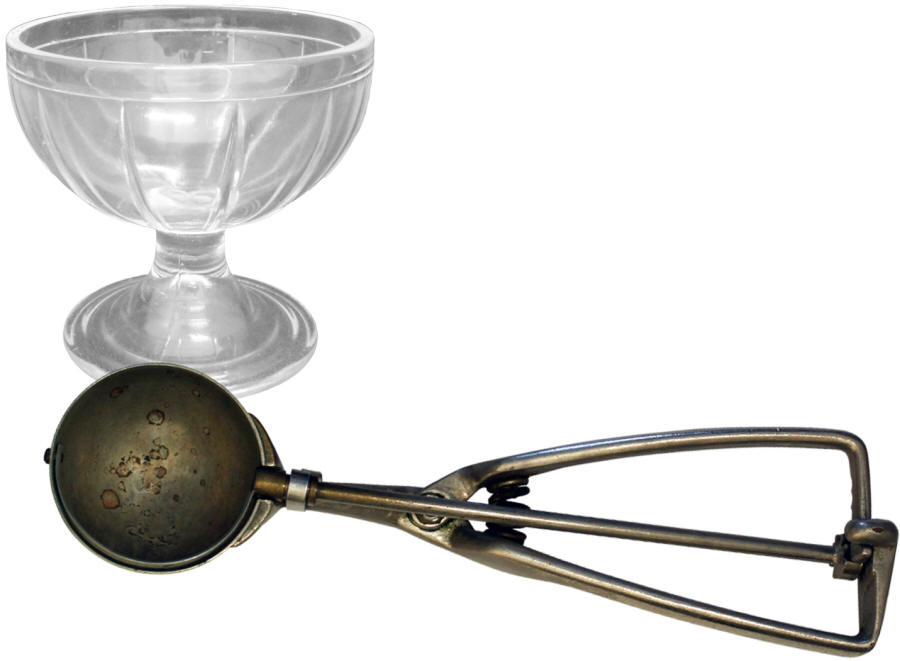 Left & Below: Bowl and Scoop for Ice-Cream

Ice for the tearooms came up from Perth on the train and was collected from the railway station in a wheelbarrow. In the days before fridges, some of the ice was used to make ice-cream from scratch.

"When the account arrived for Kroschel's tearooms my mother would go into town and pay it. After paying, Mrs Kroschel would put some ice cream into two dishes and they would sit at one of the tables and have a talk." -- Les Johnson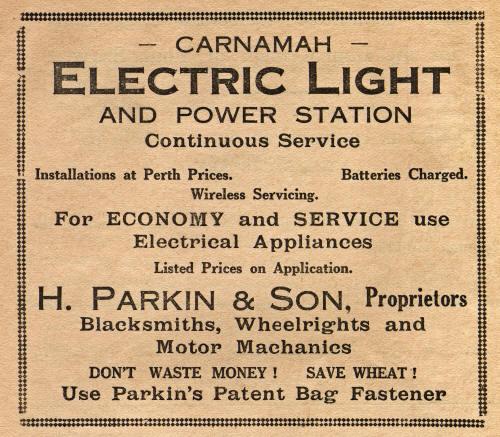 In 1926 the tearooms became the first building in Carnamah to receive electricity from Parkin & Son's power station on Yarra Street. The power station eventually powered the entire town and nearby farmhouses. Despite having the modern convenience of electricity, the townsite was still amid the wilderness of bushland...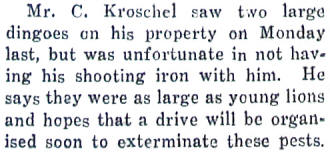 Right: Mrs Maggie Kroschel in Carnamah
"Charlie Kroschel had 40 acres off Yarri Road. He grew vegetables and used to get someone to put in a crop. He used to walk out there every day and worked all day in his vegetable garden. Mrs Kroschel was in the shop."
-- Cyril Rayner
Below: Salt & Pepper Shakers from the tearooms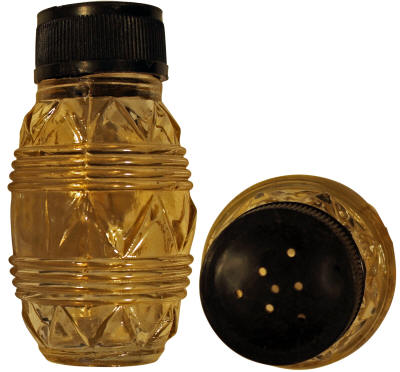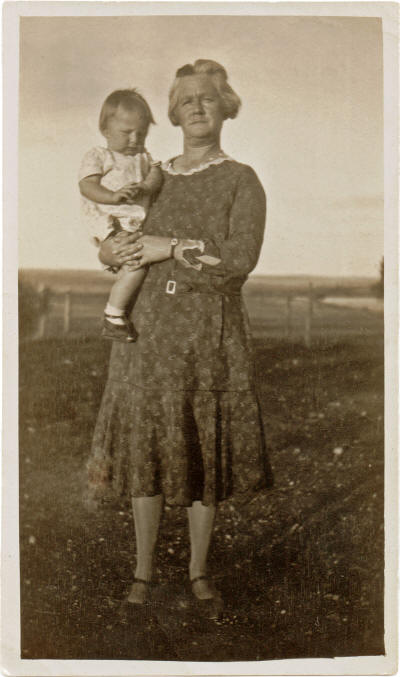 "The Depression arrived. The price of wheat dropped overnight. No one had any money."
-- Don Reynolds
Charlie and Maggie Kroschel struggled financially during the early years of the Great Depression. They had their telephone disconnected in the early 1930s as one of many ways to try and save money. In 1935 they closed their tearooms and leased its building to
Amy Giles
and
Vera Stephens
. These two single entrepreneurs had been running a competing tearooms further up Macpherson Street. Misses Giles and Stephens moved their Pyramid Tea Rooms into the premises at 10 Macpherson Street, and also had beds for boarders in the adjoining house.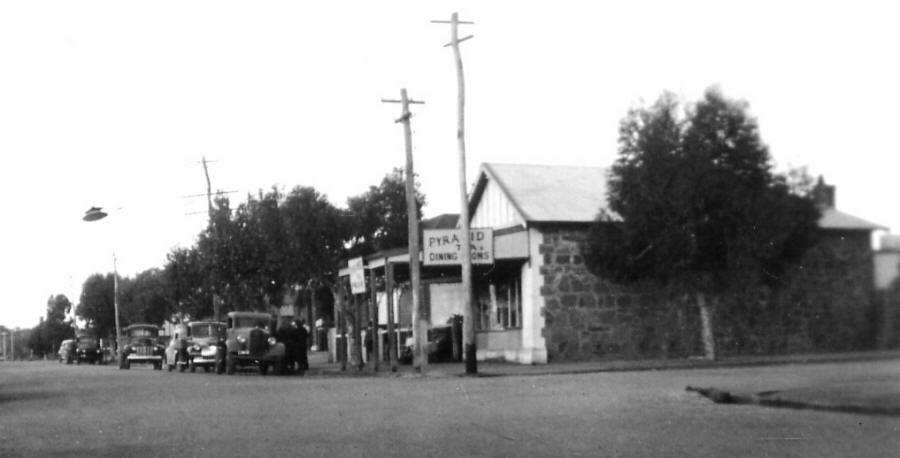 Carnamah's First Fridge

Misses Giles and Stephens had purchased Carnamah's first fridge in 1933, which was a Quirk's Electric Refrigerator and Ice-Maker.

Up until that time all businesses and homes had used cellars or Coolgardie safes to keep their food cool. To enable the fridge to be used, Parkin & Son began providing the town with electricity continuously, it having previously gone off every night. The North Midland Times newspaper remarked that the power staying on all day and night "should be of great convenience".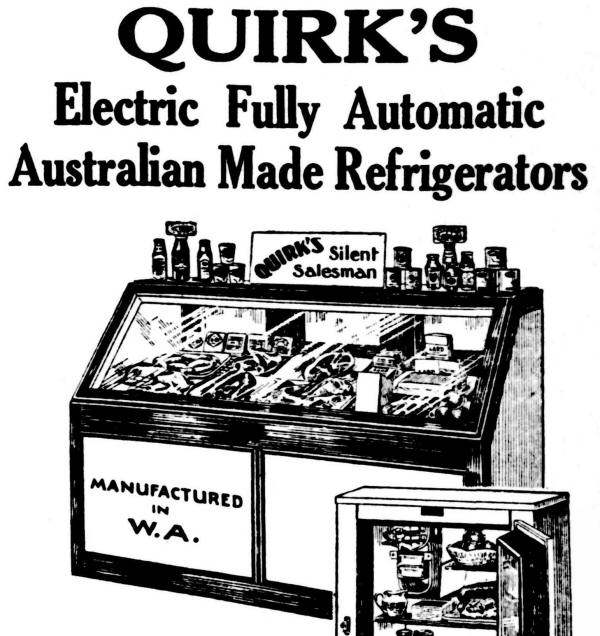 Misses Giles and Stephens left Carnamah in 1938 and the tearooms were taken over by Charlie and Maggie Kroschel's daughter and son-in-law, Peg and Ned Wells. Behind the scenes it was always extremely busy. There were boarders who lived there, Mrs Wells was usually in the kitchen cooking and staff would be moving back and fourth taking orders and serving food. A number of men had their lunch there each day and would wander straight to the kitchen and serve themselves. It was wondered how Peg and Ned ever made any money with such an arrangement, however they very successfully ran the tearooms for over 20 years.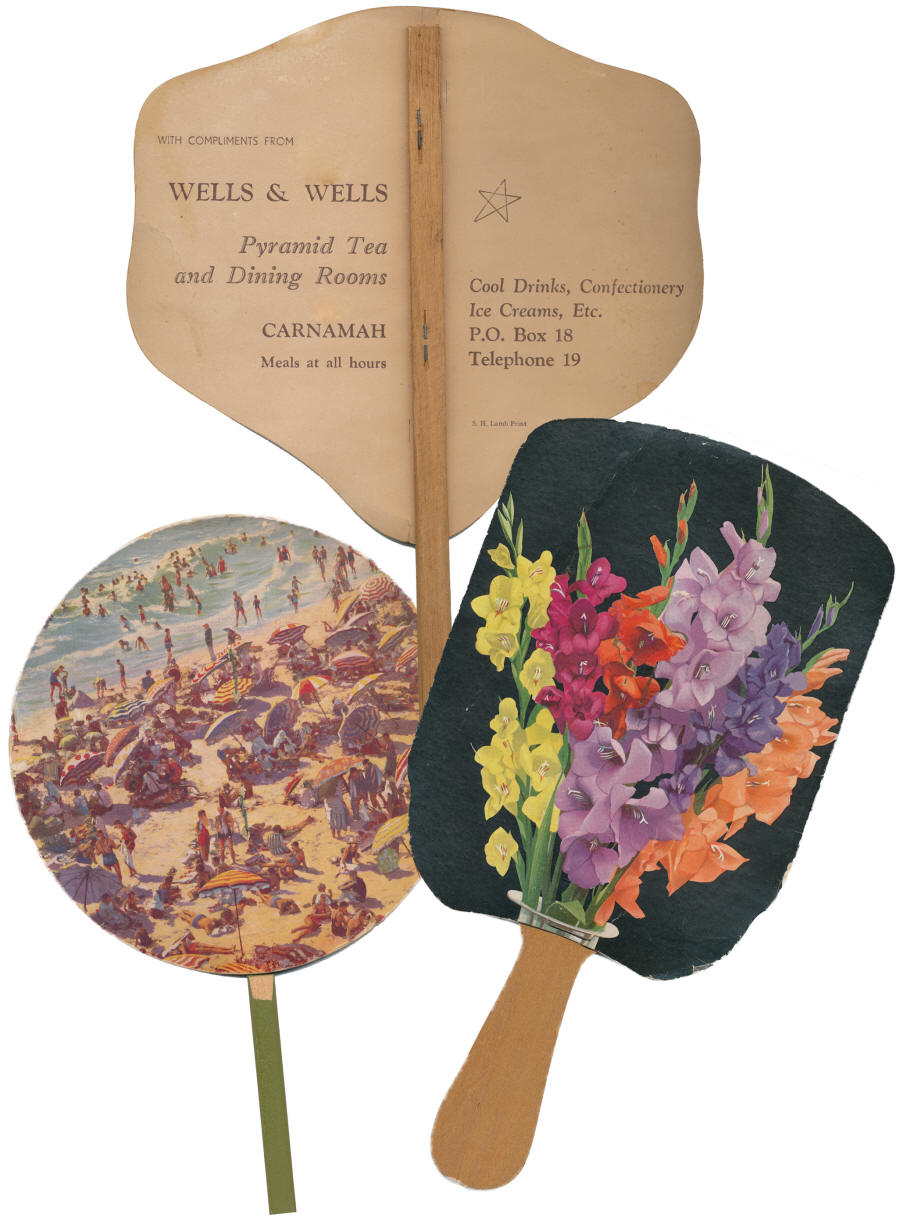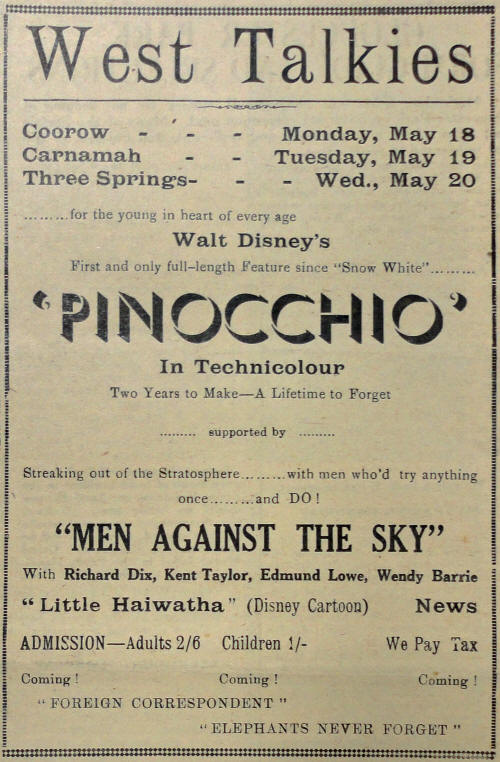 Above: Promotional Fans

At one point there were four tearooms in Carnamah. Wells' had the advantage at 10 Macpherson Street as it was easily able to sell meals and drinks during the intermission of movies, which were shown across the road at the Carnamah Hall.

"Whenever there were pictures on in the hall they were open for the interval. People flocked over to the café for drinks etc. Then after the pictures were over, some people used to go there. Mrs Wells catered for weddings and parties – often in the Town Hall. She also catered for the Road Board meals on meeting day. Peg did a lot of catering. She was a good cook and a good manager and had good staff. They had a lot of customers." -- Cyril Rayner

Right: 1942 advertisement for pictures, or movies, screened at the Carnamah Hall and also in Coorow and Three Springs

Corner of Tablecloth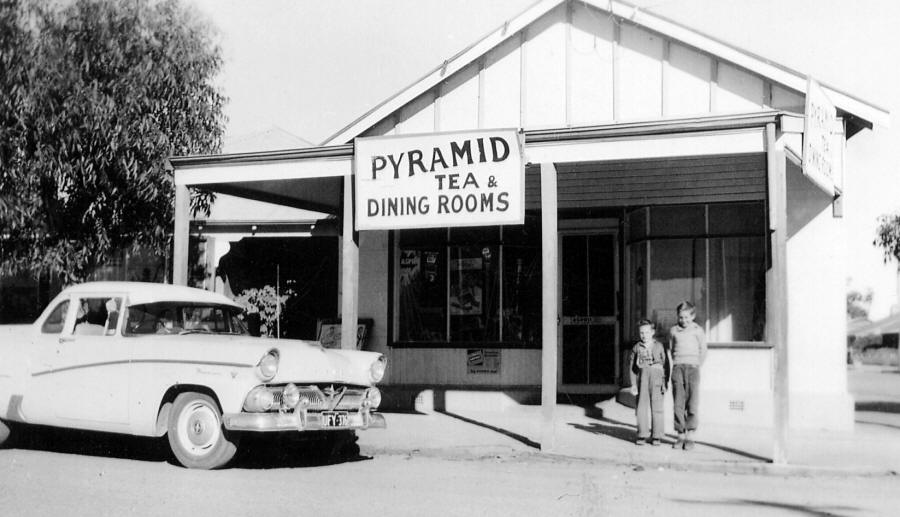 Ned and Peg Wells divorced in 1960 and sold the tearooms to Lloyd Lapsley. He lived in Perth and rented the building to John and Doris Gooch, who ran the tearooms and boarding house. After the Gooch family left in 1967, the tearooms were run by a few different people for shorter periods of time. The name was briefly changed to Jolly Jack's with the catchline "Shop Fully Air Conditioned For Your Comfort".
"I can remember the big tins of Mills & Ware's biscuits. Biscuits were sold loose. We sold ice creams – 6d a cone with chocolate on top. They used to show movies at the back of the old Hall. If we were at the show we had to dash back at interval to help serve in the shop. Mum's specialty was pasties."

-- Gordon Gooch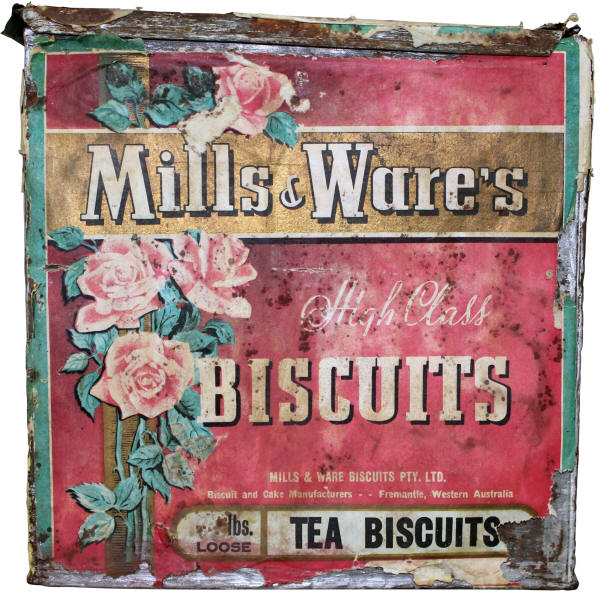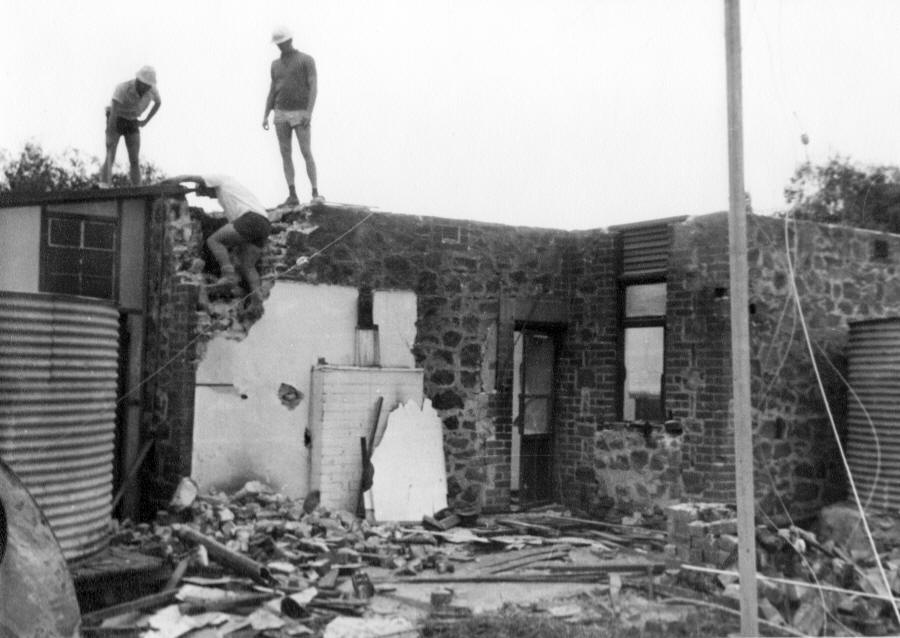 In 1986 the kitchen and house adjoining the tearooms was demolished and the remaining portion became a branch of the sports betting Totalisator Agency Board (TAB). Joe Clancy and then Colleen Bennier ran the T.A.B. at 10 Macpherson Street, which opened on Friday evenings and all day on Saturdays.

"It was just betting on horses and dogs in those days. Cannington horse races and always Brisbane, Perth, Melbourne and Sydney horse races, sometimes Bunbury Cup. It was a good crew, we had a lot of laughs. It wasn't that they gambled a lot of money - it was social and was an interest and hobby. They tried to close us down two years before it did, but we fought it."
-- Colleen Bennier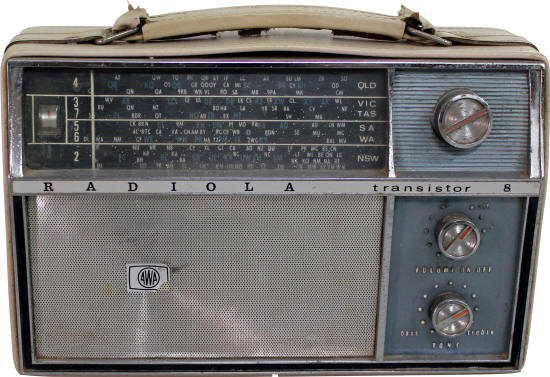 Radio from the Carnamah T.A.B.

After placing bets the T.A.B.'s customers would eagerly listen to the races and commentary on this radio. At the end they'd have a joke and laugh about who'd won and lost.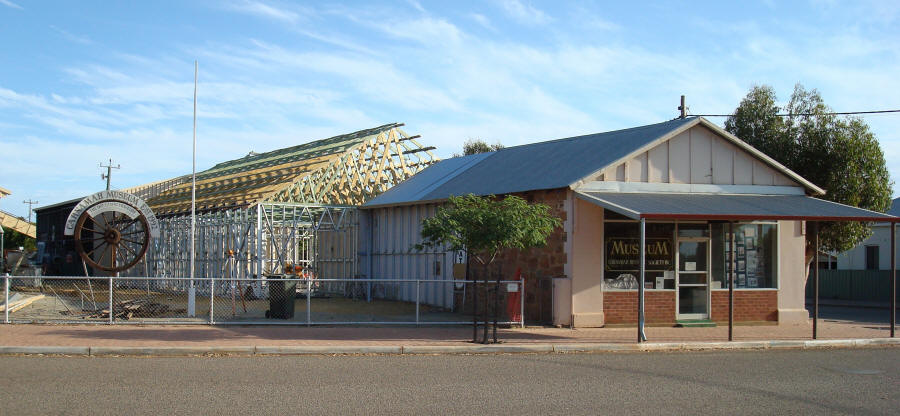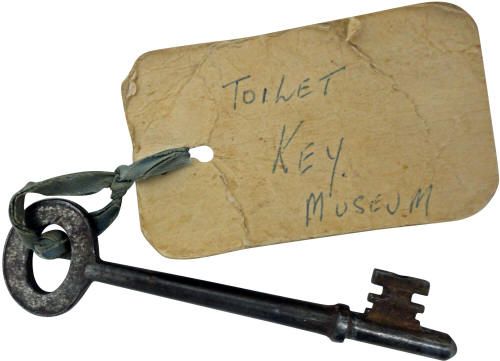 V i r t u a l M u s e u m :

Macpherson
●
Railway
●
Farms
●
War
●
Town
●
Schools
●
Roads
●
Business
●
Milk
●
Electricity
●
Post
●
Books
●
Toys
Now featuring
10863 Bushranger presented by Act Belong Commit