Early History of Three Springs
The district of Three Springs received its name after three freshwater springs situated about one mile north of what is now the Three Springs townsite. The area of the springs had been surveyed by Sir John Forrest in 1872, and in his sixth Field Book he showed "the Three Springs" on Victoria Location 482. Prior to 1906 pastoralists ran livestock on portions of the district and the only resident settlers were a few railway employees of the
Midland Railway Company
.
The government had plans for an experimental farm west of the railway line, but instead threw it open for selection in 1906 under the name of the Kadathinni Agricultural Area. The first seven men who made an application for a holding were Walter Browning, John A. Richardson,
Charles F. Thomas
,
Reuben Carter
,
Ernest T. C. Klopper
,
Henry K. Maley
and
Solomon S. Maley
.
The first to take up residence on his holding was Reuben Carter, who arrived with his wife Leah and their son Herbert on Saint Patrick's Day in 1906. After making a makeshift home Charles F. Thomas, his wife
Winifred
and their six children shifted to their holding on 8 April 1906. Other settlers who followed included Franklin Bros.,
Stephen J. H. Morgan
,
Henry H. Richardson
,
William J. Howard
,
John G. Wilson
,
Gilford Haines
,
James K. Hebiton
, Ernest T. C. Klopper, Solomon S. Maley,
Charles C. Maley
, and
Isaac Wallace
.
In 1909 the
Midland Railway Company
surveyed and put up for sale a large area east of the railway line that had previously been leased by
Michael Brown
. This resulted in a second influx of settlers including
Philip Lynch
,
George R. Watson
,
Arthur D. Glyde
, Bastian Bros,
Charles H. Gooch
,
Henry J. Page
,
Frederick W. Sluggett
,
William Oats
,
Frederick Hornsby
,
Franz L. Arndt
,
Robert A. Caldow
, and
William Dean
.
The first wheat grown in the Kadathinni Agricultural Area was fifteen acres grown and cut for hay by Charles F. Thomas in 1906. Rainfall records were inaugurated in 1907 and kept by
John L. Hebiton
.
The first public body was the Kadathinni Farmers & Progress Association which was formed in 1908. Gilford Haines and Charles F. Thomas were the Association's first chairman and secretary, and in 1909 were respectively followed by Stephen J. H. Morgan and
Evander W. Franklin
. The progress association did much to advance the district in which the needs of the new settlement were many and the amenities few. In 1911 some of its accomplishments were the construction of the first town dam, the appointment of a resident police officer (
Const. William Walker
), and the appointment of a local Justice of the Peace (James K. Hebiton Snr). Other local organisations formed included football and race clubs in 1910, and a rifle club in 1915.
Initially there was only a railway siding at Three Springs, with trains stopping to let down passengers or when called upon to do so. Trains were stopped by the intending passenger holding up a red disc in the daytime or a light at night. Following the district's advancement and increased settlement the Midland Railway Company upgraded the siding to a station in 1910, and
Arthur S. Mortimer
was transferred to Three Springs to fulfill the duties of stationmaster.
The district made rapid growth for several years. The first school was a private one on Charles F. Thomas' farm, the teacher being Charles Howes, known to the early settlers as "Le Grondeur." A State School was opened in the townsite in the latter part of 1908, the first teacher being
Miss Dagmar Koch
, who in 1910 was succeeded by
Arthur W. V. Green
. A Dominican Convent, including a school, was established in Three Springs in 1917.
The first shop, which was a newsagency, was opened in 1909 by
James J. Brown
and initially conducted by
Charles McKay
(a Scot known as "Old Mac"). Later in 1909 a small general store was opened by
James J. M. Groffier
and
C. Septimus Pizey
, trading as Groffier & Pizey. In the same year "Dave"
David Todd
opened a blacksmith's shop. Dave was an excellent tradesman and helped in no small measure in the development of the district by making and mending farmers' requisites in the old horse team days. Also in 1909
Michael J. Ryan
opened a general store in the building later occupied by the
Duffy
family. Mick conducted his store successfully for several years and almost acquired fame by the quaint sign over his door, which told all and sundry that it was "Mick Ryan's Unlimited Credit Store." Mick spent valuable time explaining to good buyers with no money that he wanted them to see unlimited credit.
James J. Brown and
Stephen Sheridan
opened a general store in partnership in late 1909 or early 1910, which they sold to
William Harris
in 1911, who afterwards sold it to James A. Whitelaw. Later again, in 1920, it was sold to the North Midlands Farmers' Co-Operative Company Limited, who used it for their store until having new premises built in 1941. Amongst the first managers of the Co-Operative store were
Charles E. Wright
, John M. Donnes, James K. Hebiton Snr,
Norman L. Skewes
,
Harold Barnett
and
Henry W. Smith
.
By mid 1910
Mrs Blanche M. Koch
had opened a tearooms and boarding house known as the Three Springs Coffee Palace, which was successfully operated by herself until 1932 and then by her daughter
Mrs Clare Black
. Also during the year 1910 a bakery was established by Isaac Wallace, and
Alfred J. Carlisle
opened a photographic studio. In 1911 another store was opened by
Thomas J. Berrigan
, who also carried machinery, stock, insurance and other agencies.
Edmund K. Byrne
opened a butcher's shop in 1911, which was conducted by his elder sons until 1919 when it was taken over by
Thomas K. Bickell
.
In 1910 Mrs
Jane Terry
established the Commercial Hotel with a wine and beer license and in 1911, after extensive alterations, secured a general publican's license. The hotel was later conducted by
Lewis R. Hasell
,
William H. Angove
,
Nathaniel McKenzie
,
Randolph Barnhart
(who had new hotel premises built),
Vincent P. Tippett
,
William A. Duncan
, and John J. Thorpe.
Mrs Daisy Starling
, wife of the local railway ganger, acted as mail receiver as early as 1907. A postal service was later given by Mrs Blanche M. Koch and Miss Claire Koch, the mother and sister of the first state school teacher. During the latter part of 1910 the first official post and telegraph office was opened in part of the local store owned by Brown & Sheridan. Charles H. Nicholson was the first postmaster and filled the position until May 1912, when
Charles E. Luscombe
took over and carried on until his retirement in September 1947. About 1913 the post office was moved to a house on Touche Street, formerly occupied by Stephen Sheridan, business being conducted through a window with a ledge on the front verandah for about four or five years, after which a separate room for postal business was built on land alongside the house. This house, also previously used as the postmaster's quarters, was now used solely for this purpose. During 1914 telephone facilities were established with six subscribers, and shortly afterwards private boxes were installed. After many applications and deputations Three Springs was granted new official post office premises, which were opened by
Senator Patrick J. Lynch
of Three Springs on 12 August 1938.
The National Bank of Australasia Limited opened a receiving office in Three Springs in 1909, and a branch in 1926. Among the branch's earliest managers were
Maurice A. Buck
,
Charles S. Macdonald
,
John J. Kelleher
,
R. Keith Whitlock
, and
Christopher B. Thomas
. In 1928 the English, Scottish & Australian (E., S. & A.) Bank established its first Western Australian country branch at Three Springs. The local E. S. & A. Bank was managed by
Clement L. Evans
for three years and then by
Raymond Shaw
.
The first town hall, known as the Agricultural Hall, was built by a contractor named Brock and was opened on 29 June 1912. The opening ceremony was performed by
James Gardiner
who was the
Midland Railway
Company's Land Agent and later the Legislative Assembly Member for Irwin. The hall cost £650, with the Government at that time subsidising the building of agricultural halls on a pound for pound basis. The music for the dance which followed the opening ceremony was provided by
Miss Winifred M. Thomas
. One speech made at the function was a toast to "Town and Trade," proposed by the then resident school teacher. The speaker emphasised how grateful the residents were to the business people, who came out into a new area, risked their money in setting up business and catered for the settlers' needs, adding that even if they charged 300% more for their goods than applied elsewhere the settlers were still grateful to them for the service they rendered.
In the early days of the settlement a sports meeting known as the "Three Springs Day" was held on the third Thursday in September, with
Charles F. Thomas
as secretary. In 1927 the Three Springs Agricultural Society was formed and held its first show on 20 September 1928. This fixture took the place of the "Three Springs Day," the secretarial duties for the show also initially being carried out by Charles F. Thomas. Other events in the early years included the annual race meeting conducted by the Three Springs Race Club, and a race and sports meeting held each year on Saint Patrick's Day.
The early settlers of the Roman Catholic Church were cared for by Rev. Fathers O'Heir, Ahern and
Scanlon
. A Roman Catholic Church was built in 1911 and a Dominican Convent opened on 28 January 1917. The Three Springs Parish was created in 1921, the first Parish Priest being the Rev. Father
Mark L. Hart
, who was followed by Rev. Fathers
P. James Tymons
,
John Flahavan
,
Michael Lynch
and
Bryan Gallagher
. The first resident Methodist Missioner was appointed in 1914 and was
Rev. James W. Bayliss
. Rev. Bayliss was succeeded by Horace E. Weavers,
James R. Elms
,
Henry P. V. Christiansen
,
Alexander W. James
and Thomas Cook. The spiritual welfare of the Anglican settlers was initially cared for by the Rev. Ernest Gill of Dongara, a quaint old Anglican Minister, who made periodical visits as far as Three Springs. Rev. Gill was succeeded in Dongara by
Rev. Walter B. Kenworthy
, who also visited Three Springs. A very keen worker for the local Anglican church in the early days was Mrs Blanche Koch. In 1928 a rectory was built in Three Springs and
E. Godfrey Jaquet
travelled from England to became the district's first resident rector. The Anglican Church of Saint James in Three Springs was licensed on 15 April 1932 by the Most Rev. Henry F. Le Fanu, the second Archbishop of Perth. The locally raised funds towards the Church were due largely to the enthusiasm of
Mrs Maude F. James
. Following Rev. Jaquet's departure the Parish was conducted by
Rev. Edward Chard
and then
Rev. Alfred J. Toomey
.
The district's first doctor was
Dr James P. McAleer
, later the Mayor of Geraldton, who commenced practice in Three Springs in 1921. In 1924 a cottage hospital was opened in a farmhouse on Charles C. Maley's
Parakalia
about one mile west of the town. The cottage hospital was later moved to another farmhouse about one mile north east of the town, and also owned by Charles C. Maley. Following Dr McAleer's departure
Dr Mario A. Mayrhofer
faithfully served the district as resident doctor from mid 1926 until his death in 1950. In 1926 a meeting was held to have a new official hospital built. The building committee consisted of Dr Mario A. Mayrhofer (chairman), Keith S. Glyde, Sydney C. Gooch, Albert R. Strutton and James K. Hebiton (secretary). The North Midlands District Hospital was opened four years later on 27 June 1930. The building cost £4,410, of which £2,204 was subsidised by the Government. The locally raised portion was obtained mainly through subscriptions, the largest of £200 coming from the North Midlands Farmers' Co-Operative Company Limited. In 1937 nurse's quarters were built alongside the hospital.
In 1929 an electric light and power station was established in the Three Springs townsite by
Henry Parkin & Son
of Carnamah. The power station was later conducted by William A. Rogers, Leslie J. Carter, and Arthur H. Dargin. The station received a concession from the Three Springs Road Board conditional to it providing certain services, such as lighting street lights at night and providing a full day of power one day a week for domestic ironing purposes.
As a wheat growing district Three Springs soon proved its worth. In 1931-32 the Three Springs district obtained the highest average yield for the State, and this achievement was commemorated by a dinner arranged by the wheat growers of the district and held in the Commercial Hotel on 26 August 1932. At a World Grain Exhibition held in Canada in 1933 two prizes were won by Three Springs farmers in Evander W. Franklin and James K. Hebiton Snr.
Initially Three Springs was part of the
Upper Irwin Road Board
, which was based at Mingenew and in 1919 was renamed the Mingenew Road Board. Three Springs farmers
Charles C. Maley
, Francis J. Morgan and Frederick E. S. James all served terms representing the district as members on the Upper Irwin / Mingenew Road Board. In 1923 the southern portion of the Mingenew Road Board, spanning from Three Springs to Gunyidi, became the Carnamah District Road Board.
Archibald Bastian
and
Frederick E. S. James
were the Foundation Members for Three Springs on the Carnamah District Road Board, and Frederick E. S. James was Chairman of the Board in 1925 and 1926. Others who represented Three Springs on the Carnamah District Road Board were
Nathaniel McKenzie
, Edmund K. Byrne and
Evander W. Franklin
. In 1929 a Road Board was formed at Three Springs consisting of Three Springs, Arrino and Dudawa. The inaugural members of the Three Springs Road Board were
Edward Hunt
(chairman),
Edmund K. Byrne
,
William D. S. Smith
,
Albert I. Broad
,
William Mutter
,
Charles F. Thomas Snr
and
Henry J. W. Sweetman
. Following a change in the Local Government Act the Three Springs Road Board became the Three Springs Shire Council in 1961.
Related Content:
●
Biographical Dictionary of Three Springs
●
B

urials at Three Springs General Cemetery
●
Blog Post - The Story of Bulk Wheat Handling
●
Three Springs Centenary Collection (photos)
● Early Histories of
Carnamah
and
Coorow
The above history is an adapted version of the "History of Three Springs" that appeared in the Souvenir Booklet from the opening of the Three Springs Road Board Hall in 1949. The history had been provided by James K. Hebiton Snr, Evander W. Franklin, Charles F. Thomas Jnr, and Charles E. Luscombe. The booklet was published by the Three Springs-Arrino Sub-Branch of the R.S.L. and has been re-produced in an edited format with their kind permission. Edited, revised and expanded in 2006 by Andrew Bowman-Bright.
The photographs on this page are from the Three Springs Historical Society. They were part of the
Three Springs Centenary Collection
which was put together by Judy Mutter for the district's centenary in 2006.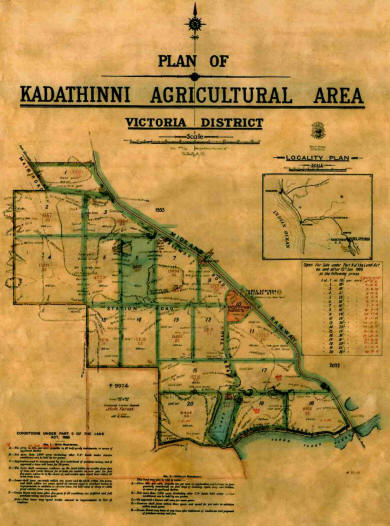 Plan of the Kadathinni Agricultural Area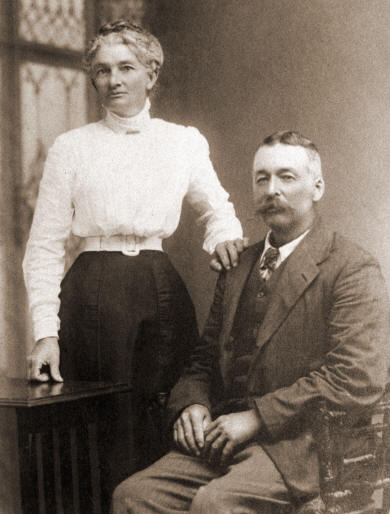 Leah & Reuben Carter
Photo courtesy of Mrs Lois B. Lucas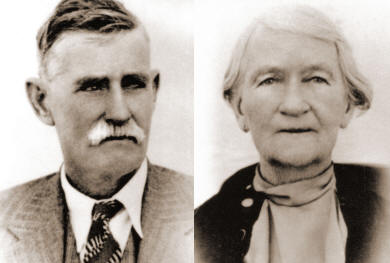 Charles F. & Winifred Thomas
Photo courtesy of Robert W. Hunt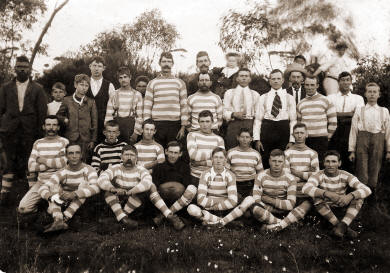 Inaugural Three Springs Football Team in 1909
Photo courtesy of the Shire of Three Springs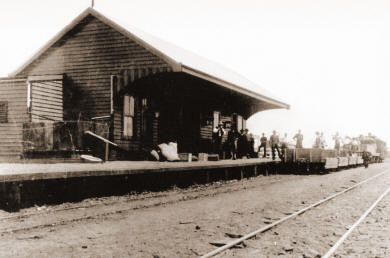 Three Springs Railway Station in 1917
Photo courtesy of Robert W. Hunt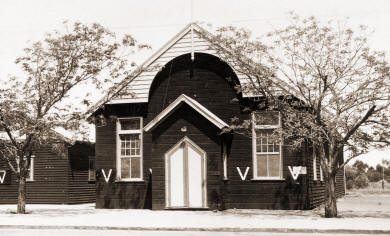 Agricultural Hall in Three Springs
Photo courtesy of
Anthony E. C. & Geraldine L. Thomas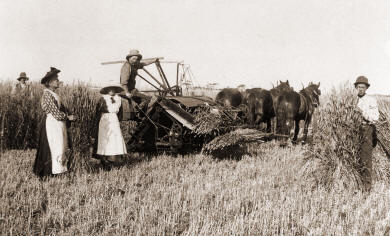 Hay cutting on Carter's farm in 1909
Photo courtesy of Mrs Lois B. Lucas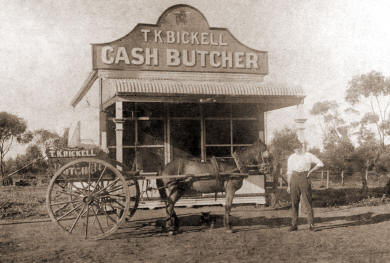 Butcher's Shop in Slaughter Street C.1917
Photo courtesy of Clifford K. Bickell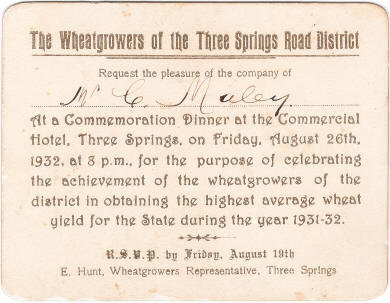 Invite to Commemoration Dinner to celebrate
Three Springs obtaining the highest average
wheat yield in WA for the 1931-32 season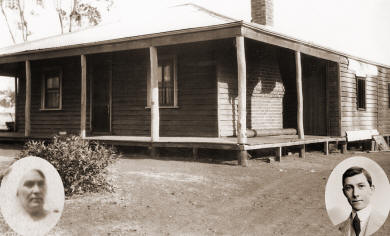 First Three Springs Hospital
Inset: Matron Toohey and Dr James P. McAleer
Photos respectively courtesy of Mrs Marie T. Sears,
Mrs Fay M. McKinnon and Anthony J. McAleer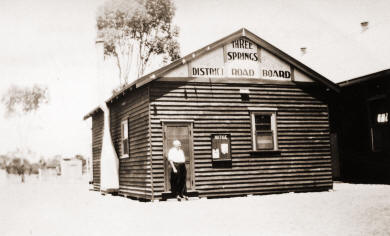 Three Springs District Road Board offices
Photo courtesy of I. Cochrane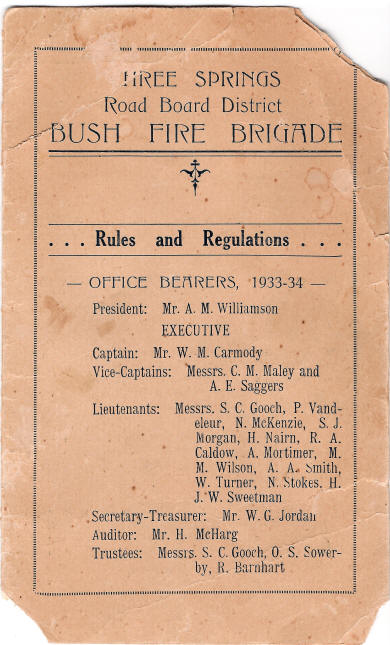 Cover of Three Springs Road Board District
Bush Fire Brigade 1933-34 Rules & Regulations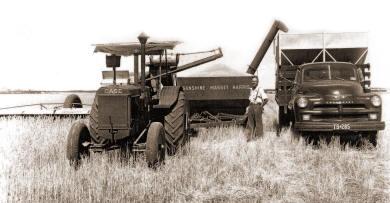 Harvesting in 1956 on
Golden West
Farm
Photo courtesy of Mrs Rhonda R. Stokes